Board
Our ideas will move you forward
CPU boards are a combination of microprocessor, SoM or alternatively a Raspberry Pi compute module, memory, communication, and LCD interfaces as well as important safety standards on a compact circuit board. The functions of the boards can be individually expanded via expansion connectors. This powerful and independent platform is versatile and a safe investment in your future projects.
Reduced development effort

The standard peripheral set with a variety of interfaces as well as computing power and memory expansion can be scaled as required.

No overhead

The combination of a powerful, compact computing core on the SoM module and the latest communication interfaces on the board, offers an efficient solution for a wide range of applications.

Scalable computing power

CPUs can be selected according to performance requirements with individual processor and suitable memory configuration.

Pre-configured delivery

Including bootloader, operating system, predefined application and MAC addresses on request.
Latest encryption technology

Secure boot and other security functions meet the highest security requirements.

Software tools available

A pre-configured development environment and customized Linux Board support package help support quick application development.

Wide range of applications

A combination of System-on-Module (SoM) and Linux Board provides a powerful and independent platform.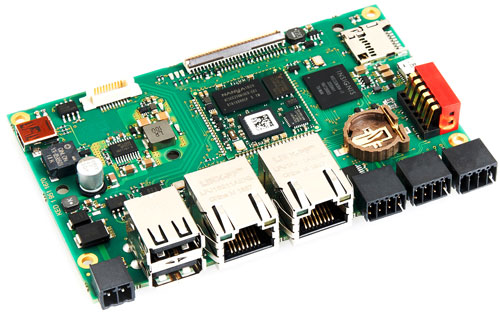 BL i.MX6ULL/UL
Complex application processor as simple as a micro-controller
i.MX6ULL 1x Arm® Cortex-A7 @800 MHz
i.MX6UltraLight 1x Arm® Cortex-A7 @528 MHz
256 up to 512 MB DDR3-RAM
Accessories
AC Connector Set
AC Power Supply
AC Micro SD
Software
Embedded Linux (Yocto Distribution)
Optional Codesys SoftSPS
Technical Data
Function
Standard Layout ULL
Standard Layout UL
Options
Microprocessor
CPU
i.MX6ULL 1x Arm® Cortex®-A7 @800 MHz
i.MX6UltraLite 1x Arm® Cortex®-A7 @528 MHz
Memory SoM Module
DDR3-Ram
512 MB
512 MB
256 MB
NAND-Flash
512 MB
512 MB
256 MB
NOR-Flash
1 MB
1 MB
Memory SoM Baseboard
eMMC
4 GB
4 GB
up to 128 GB
SD-Card
1x micro-SD Slot
1x micro-SD Slot
NVSRAM
64 kB
64 kB
Communication
Ethernet
2x 10/100 Mbit/s
2x 10/100 Mbit/s
USB
2x 2.0 Host, 1x 2.0 OTG
2x 2.0 Host, 1x 2.0 OTG
Serial
1x RS232, 1x RS485
1x RS232, 1x RS485
CAN
1x CAN 2.0
1x CAN 2.0
DIO
2x DIO (24V/bis zu 800mA)
2x DIO (24V/up to 800mA)
AIO
2x AIN (0…24V)
2x AIN (0…24V)
Display/Touch
LCD Interface
1x RGB 24 bit up to 1366 x 768 @60fps
1x RGB 24 bit up to 1366 x 768 @60fps
Touch
1xI2C, 1x USB
1x I2C, 1x USB
Other
Power supply
24V DC ±20%
24V DC ±20%
Power consumption
Linux running <1,5W
Linux running <1,5W
Temperature range
0°C…+70°C
0°C…+70°C
Operating system
Embedded Linux (Yocto Distribution)
Embedded Linux (Yocto Distribution)
Form factor
105,5 x 67 mm (4,3")
105,5 x 67 mm (4,3")
External RTC
1x on Baseboard
1x on Baseboard
RTC-Buffering
Battery on Baseboard CR1220
Battery on Baseboard CR1220
Debug
1x Console
1x Console
Expansion plug
2x USB, 1x I2C
2x USB, 1x I2C
1x SPI instead of nvSRAM
Audio
1x Buzzer
1x Buzzer
Security
Secure Boot, RNG, AES-128
Secure Boot, TRNG, Tamper Detection, Secure Storage (including 32 KB Secure RAM), Cryptographic Accelerators (AES-128, DES 3DES, ARC4,MD5, SHA-1, SHA-224, SHA-256, RSA/ECDSA), Secure Debug, OTP Space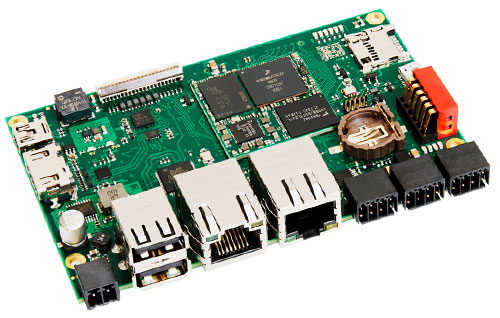 BL i.MX8M Mini
The Baseboard with high-performance-processor quad core 1.6 GHz
4x Arm® Cortex-A53 @1.6 GHz
1x Arm® Cortex-M4 @400 MHz
1 GB up to 4 GB LPDDR4-RAM
Accessories
AC Connector Set
AC Power Supply
AC Micro SD
Software
Embedded Linux (Yocto Distribution)
Technical Data
Function
Standard Layout
Options
Microprocessor
CPU
4x Arm® Cortex®-A53 @1.6 GHz, 1x Arm® Cortex®-M4 @400 MHz, 2D GPU and 3D GPU
Memory SoM Module
LPDDR4-Ram
1 GB
Up to 4 GB
NOR-Flash
2 MB
Memory SoM Baseboard
eMMC
8 GB
Up to 128 GB
SD-Card
1x micro-SD Slot
Communication
Ethernet
1x 1 Gbit/s, 1x 10/100 Mbit/s
USB
2x 2.0 Host, 1x 2.0 OTG
DIO
4x DIO (24V/up to 800mA)
Serial
1x RS232, 1x RS485
CAN
1x 2.0
Display/Touch
LCD Interface
1x HDMI, 1x LVDS, up to 1920 x 1080 @60fps
Touch
1x I2C, 1x USB
Other
Power supply
24V DC ±20%
Power consumption
Linux running < 2W
Temperature range
0°C…+70°C
Operating System
Embedded Linux (Yocto Distribution), Microsoft Windows 10 IoT Core
Form factor
105,5 x 67 mm (4,3")
External RTC
1x on Baseboard
RTC buffering
Battery on Baseboard CR1220
Debug
1x Console
Expansion plug
1x I2S, 1x PCIe, 1x SPI, 1x SDIO 8 bit, Camera interface 1x MIPI CSI (4-lane)
Audio
1x Buzzer
Security
HAB Secure Boot, TrustZone, True RNG, RSA up to 4096, AES128/192/256, 3DES, ARC4, MD-5, SHA up to 256, ECC, Secure JTAG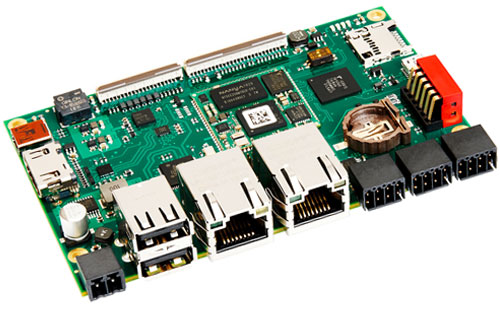 BL STM32MP157
Tripple processor power for your project
2x Arm® Cortex-A7 @ 650MHz
1x Arm® Cortex-M4 @200MHz
256 up to 512 MB DDR3-RAM
Accessories
AC Connector Set
AC Power Supply
AC Micro SD
Software
Embedded Linux (Yocto Distribution)
Technical Data
Function
Standard Layout
Options
Microprocessor
CPU
STM32MP157A 2x Arm® Cortex®-A7 @650 MHz, 1x Arm® Cortex®-M4 @200 MHz, 3D GPU
Memory SoM Modul
DDR3-RAM
512 MB
256 MB
NAND-Flash
512 MB
256 MB
NOR-Flash
2 MB
Memory SoM Baseboard
eMMC
4 GB
128 GB
SD-Card
1x micro-SD Slot
Communication
Ethernet
2x 10/100 Mbit/s
USB
2x 2.0 Host, 1x 2.0 OTG
Serial
1x RS232, 1x RS485
CAN
1x CAN 2.0
DIO
2x DIO (24V/up to 800mA)
AIO
2x AIN (0...24V)
Display/Touch
LCD Interface
1x RGB 24 bit, 1x LVDS, 1x HDMI up to 1366 x 768 @60fps
Touch
1x I2C, USB
Other
Power supply
24V DC ±20%
Power consumption
Linux running < 2W
Temperature range
0°C…+70°C
Operating system
Embedded Linux (Yocto Distribution)
Form factor
105,5 x 67 mm (4,3")
Internal RTC
on SoM with Quartz
External RTC
1x on Baseboard
RTC buffering
Battery on Baseboard CR1220
Debug
1x Console
Audio
1x Buzzer
Security
TrustZone, AES 256, SHA-256, MD5, HMAC, 3x Tamper Pins with 1 active, Secure RAMs, Secure Peripherals, Secure RTC, Analog true RNG, 98-bit unique ID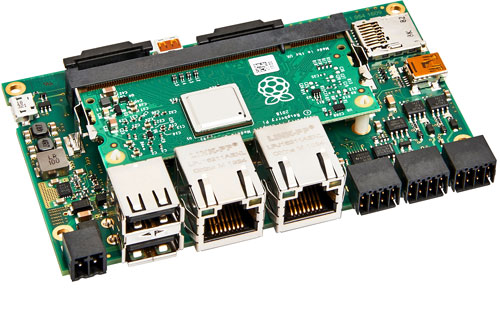 BL Pi-Tron CM3+
Industrial Raspberry Pi
Broadcom BCM 2837BO 4x Arm® Cortex-A53 @1.2 GHz
3D Video Engine
1 GB LPDDR2 RAM
Accessories
AC Connector Set
AC Power Supply
AC Micro SD
Software
Raspbian Linux
Optional CODESYS SoftPLC
Technical Data
Function
Standard-Equipment
Microprocessor
CPU
Broadcom BCM2837BO 4x Arm® Cortex®-A53 @1.2 GHz, 3D Video Engine
Memory
LPDDR2-RAM
1 GB
eMMC*
Compute module CM3+ 8 GB/16 GB/32 GB
SD-Card
Compute module CM3+ Lite, 1x micro SD-Card Slot for operating systems
FRAM
16 kbit
Communication
Ethernet
2x 10/100 Mbit/s
USB
2x 2.0 Host
I/O
2x UART, 2x I2C, 2x SPI, 28x GPIO, 2x PWM, 1x SDIO (4 Bit)
DIO
4x DIO (24V/up to 800mA)
Serial
1x RS232, 1x RS485
CAN
1x 2.0
Display/Touch
LCD Interface
1x 2-lane DSI Display Interface (bis zu 1 Gbit/s per lane) (DSI 1) 1x micro-HDMI 1.3a 1080p@30fps
Touch
1x I2C, 1x USB
Camera Interface
1x 2-lane CSI Camera Interface (CSI 1)
Other
Power supply
24V DC ±20%
Power consumption
3,4W…9,6W (without peripherals)
Temperature range
0°C…+55°C
Operating system
Raspbian Linux
Form factor
105,5 x 67mm (4,3")
External RTC
1x on Baseboard
RTC buffering
Battery on Baseboard CR1220
Debug
1x Console
Expansion plug
Raspberry PI GPIO Header 40Pin
*versions with eMMC memory do not feature an SD card slot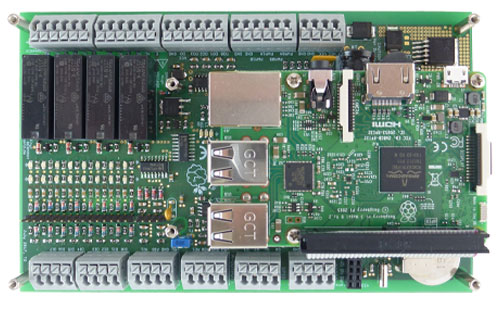 PiXtend® V2 -S-
Fast, reliable and connection friendly
Raspberry Pi 3B+ single-board computer
Retain memory 32 Bytes Flash EEPROM
Suitable for CODESYS SoftPLC
Accessories
AC Connector Set
AC Power Supply
AC Micro SD
Software
Raspbian Linux
Optional CODESYS SoftSPS
C
Python
Technical Data
Hardware
PiXtend® V2 -S-
Power supply
24V DC ±20%
Retain-/Remanence memory
32 Bytes Flash EEPROM
Real Time Clock (RTC)
with battery buffering
Temperature- and Air Humidity Sensors
up to 4 DHT11, DHT22, AM2302
RS232
1x
RS485
via USB-Dongle
Digital inputs (DI)
8x 3,3 / 5 / 12 / 24V
Digital outputs (DO)
4x PNP 5 / 12 / 24V, 0,5A
Analog voltage inputs (AI)
2x 0…5V, 0…10V, 10 Bit
Analog voltage outputs (AO)
2x 0…10V, 10 Bit
Relais
4x, max. 230V / 6A
PWM-/Servo outputs
2x 16 Bit, 2x 8 Bit resolution, 5V
GPIO
4x 5V GPIO
Interfaces and I/Os
Short circuit proof, supply with reverse polarity and overload protection (self-resetting safety device)
Max. temperature range
0°C…+50°C
Dimension - without housing
166,3 x 101,8 x 27 mm
Top hat rail housing
Aluminium
Supported RPI models
1 B+, 2 B, 3 B, 3 B+, 4 B (Extension Board & Basic)
Software
Short cycle times
2,5 ms (400 Hz)
Support for:
CODESYS V3, C- and Phyton Library, FHEM, Node-RED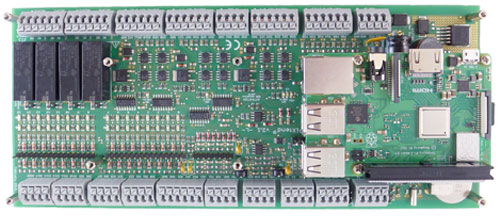 PiXtend® V2 - L-
Fast, reliable and connection friendly
Raspberry Pi 3B+ single-board computer
Retain memory 64 Bytes Flash EEPROM
Suitable for CODESYS SoftPLC
Accessories
AC Connector Set
AC Power Supply
AC Micro SD
Software
Raspbian Linux
Optional CODESYS SoftSPS
C
Python
Technical Data
Hardware
PiXtend® V2 -L-
Power supply
24V DC ±20%
Retain-/Remanence memory
64 Bytes Flash EEPROM
Real Time Clock (RTC)
with battery buffering
Temerature-and Air Humidity Sensors
up to 4 DHT11, DHT22, AM2302
CAN Bus
1x **
RS232
1x *
RS485
1x *, Modbus RTU capable
Digital inputs (DI)
16x 3,3 / 5 / 12 / 24V
Digital outputs (DO)
12x PNP 5 / 12 / 24V, 0,5A
Analog voltage inputs (AI-U)
4x 0…5V, 0…10V, 10 Bit
Analog current inputs(AI-I)
2x 0…20mA, 10 Bit
Analog outputs (AO)
2x 0…10V, 10 Bit
Relais
4x, max. 230V / 6A
PWM-/Servo outputs
6x, 16 Bit resolution, 5V
GPIO
4x 5V GPIO
Interfaces and I/Os
Short circuit proof, supply with reverse polarity and overload protection (self-resetting safety device)
Max. temperature range
0°C…50°C
Dimension- without housing
236,3 x 101,8 x 27 mm
Top hat rail housing
Aluminium
Supported RPI Models
1 B+, 2 B, 3 B, 3 B+, 4 B (Extension Board & Basic)
Software
Short cycle times
5 ms (200 Hz)
Support for:
CODESYS V3, C- and Phyton Library, FHEM, Node-RED
*RS232 and RS485 cannot be operated simultaneously
**CAN interfaces and anloge outputs (AO) cannot be used together