Flexible connection

Depending on the I/O module, the connection is via a robust RS485 bus (Modbus RTU), CAN bus or EtherCAT.

Easy integration

Also, into systems from third-party manufacturers.

Various designs

Compact or flat design with convenient connection technology.

Flexible mounting

Delivery also possible without housing for direct mounting on a mounting plate.
Wide range of applications

Due to different combinations of digital inputs and outputs, the modules can be used for a wide range of applications.

Industry-grade connection technology

Compact spring-loaded terminals for convenient and space-saving wiring.

Modular expandability

Due to connectivity via fieldbus, the control system can be adapted to the growing requirements of the system by adding other modules.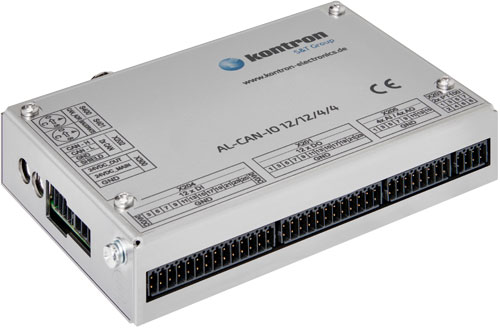 AL CAN I/O-Modul
Compact multifunctional I/O modul
12x digital inputs and outputs
4x analog inputs and outputs
2x temperature inputs
Technical Data
Function
Standard Layout
Communication
CPU
CAN up to 1MBit/s
Inputs and Outputs
Digital Inputs
12x DIN 24V DC ±15% / 6mA, of which 2 inputs as 32 bit counter usable, up to 100kHz
12x DOUT 24V, of which 4x PWM, max. 24 kHz, 0,8A
Analoge Inputs
4x analog IN, 0…10V, 0…20mA, 12 Bit resolution
Analoge Outputs
4x analog OUT, 0…10V, 12 Bit resolution
PT100
2x PT100, 2-4 wire-connector, resolution ±0,5°C from -40°C…+139°C
Other
Power supply
24V DC ±15%
Current consumption / power
60 mA to 5.5 A / <125W (dependent on I/O configuration)
Temperatur range
0°C…+55°C
Humidity
95%, condensation-free
Housing dimensions (w x h x d) Form factor
Stainless steel housing 110,5 x 24,8 x 75,5 mm for mounting on 35mm mounting rail EN 60715
EMC stability
EN 61000-6-2 / EN 61000-6-4
Protection class
IP20
Accesories plug set
AC Connector Set AL CAN-IO 12/12/4/4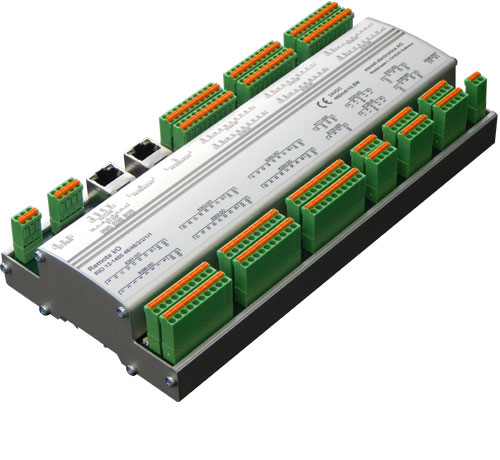 RIO Remote I/O
Intelligent, economical I/O module
Communication via EtherCAT or CANOpen
Digital and analog inputs and outputs, voltage, current, resistance and temperature measurement
Standard configurations and the possibility of an individual solution
Technical Data
Standard-Bestückung
Schnittstellen & Protokolle
Galvanisch getrennter CAN-Bus (CAN, CANopen) und/oder EtherCAT
16x GALVANISCH GETRENNTE DIGITALE EINGÄNGE (DI0..15)
Spannung 24 VDC, LED Zustandsanzeige pro Eingang, 1 Pol Anschluss, pro 8 Kanäle 24 V Einspeisung und 0 V Zykluszeit 1ms über alle Eingänge, DI0..1 können auch als Frequenz-, Zähler- oder Quadratur Encoder-Eingänge benutzt werden
2x GALVANISCH GETRENNTE QUADRATUR DECODER (QDI0..1)
Spannung 5 VDC, 4 Pol Anschluss (A, B, Z, 0V) Zykluszeit 1ms über alle Eingänge, QDI0..1 können auch als Frequenz-, Zähler- oder Digital-Eingänge benutzt werden
2x GALVANISCH GETRENNTE FREQUENZ/ZÄHLER EINGÄNGE (FI0..1)
FI0..1 können über DI0..1 oder QDI0..1 erfasst werden Zykluszeit 1ms über alle Eingänge, Frequenz 10 .. 100kHz, Counter Up/Down umschaltbar über einen digitalen Eingang
16x GALVANISCH GETRENNTE DIGITALE AUSGÄNGE (DO0..15)
Spannung 12-24 VDC, 1 Pol Anscluss, pro 8 Kanäle 24V Einspeisung und 0V, LED Zustandsanzeige pro Ausgang High-Side / 0.5A pro Kanal, 4A über alle 8 Kanäle, Alle Ausgänge kurzschlussfest und überlastsicher
4x ANALOGE EINGÄNGE (AI0..3)
Spannung 0..+10 V, Strom 0/4..20 mA, 2 Pol Anschlüsse, pro 2 Kanäle ein Schirm-Anschluss, Auflösung 12 Bit, Genauigkeit 0.5 % @ 25 °C Eingangswiderstand 120 kΩ (Spannung), 200 Ohm (Strom), Single Ended, 1 ms Abtastung über alle Kanäle AI0..1 Umschaltbar zwischen Spannung und Strom, AI2..3 nur Spannung, zusammen mit Logik galv. getrennt
4x ANALOGE AUSGÄNGE (AO0..3)
Spannung 0..+10 V, 2 Pol Anschlüsse, pro 2 Kanäle ein Schirm-Anschluss, Auflösung 12 Bit, Genauigkeit 0.5 % @ 25 °C Imax 25mA bei Spannungsausgang, Zykluszeit 1ms über alle Ausgänge Alle Ausgänge kurzschlussfest und überlastsicher, zusammen mit Logik galv. getrennt
4x RTD EINGÄNGE (RI0..3)
PT100/1000, NI100/1000, Potentiometer, 4 Pol Anschlüsse, pro 2 Kanäle ein Schirmanschluss, Auflösung 16 Bit, Genauigkeit 0.2 % @ 25 °C Messstrom einstellbar 100..1000uA, Zykluszeit < 0.2s, 2-, 3-, oder 4-Leiter Beschaltung
VERSORGUNG, MECHANIK, BETRIEBSBEDINGUNGEN
Versorgung 24 VDC +/- 20 %, Leistungsaufnahme typ. 2.4 W, Betriebstemperatur 0..+55 °C, , Schutzklasse IP20 Steckbare Push-In Federzugklemmen, Raster 3.81 mm, max. 1 mm² mit Aderendhülse inkl. Kunststoffkragen Profil 110x45 mm, Hutschienenmontage, LED für Spannungsversorgung, Betriebsstatus und Kommunikation
OPTIONEN
Lokale Signalvorverarbeitung und Überwachung, Relaisausgänge, Namur-Eingänge, Frequenzmessung direkt ab Geber Freie Definition von Anzahl und Spezifikation der I/O's, Schnittstellen, Protokolle, Potentialtrennungen, Klemmentyp, Gehäuse, Design Kundenspezifische OEM-Versionen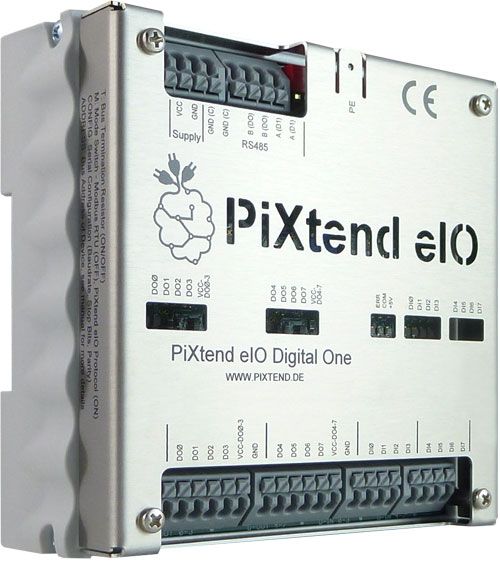 PiXtend® eIO Digital One Pro
Fast, reliable and connection friendly
Digitale inputs inclusive counting function 8x 3,3 / 5 / 12 / 24V
Digitale outputs 8x 0,5A, 5 / 12 / 24V
Fast digital logic "HyperLogic"
Technical Data
| | |
| --- | --- |
| Hardware | PiXtend® eIO Digital One |
| Power supply | 24V DC ±20% |
| Communication | EIA/RS485, halbduplex (2-wire) |
| Digital Inputs (DI) inclusive counting function | 8x 3,3 / 5 / 12 / 24V |
| Digital Outputs (DO) | 8x 0,5A, 5 / 12 / 24V, HyperLogic ‹ 1ms |
| Analog voltage inputs (AI-U) | – |
| Analog current inputs (AI-I) | – |
| Analog voltage outputs (AO-U) | – |
| Analog current outputs (AO-I) | – |
| Wire-break detection | – |
| Temperature range | 0°C…+60°C |
| Dimensions – without housing (Basic) | 96,3 x 101,8 x 21 mm |
| Dimension – with housing (Pro) | 106 x 105 x 45 mm |
| Form factor | Aluminium housing for mounting on mounting rail |
| Conformity | CE, RoHS, Modbus, IEC 61131-2 (SPS-Norm) |
| PiXtend compatibility | direct: V2 -L-, V2-S- with USB-RS485 Dongle |
| Baud rate | from 2400 to 230400, parity: none, even or uneven |
| Software | |
| Supported protocols | Modbus RTU, PiXtend eIO ASCII Protocol |
| Fast digital logic "HyperLogic" | Available |
| Security | Watchdog-Timer, CRC-checksum, Parity-Check |
| Support for | CODESYS V3, Java, C, C++, C#, Phyton, FHEM, Node-RED |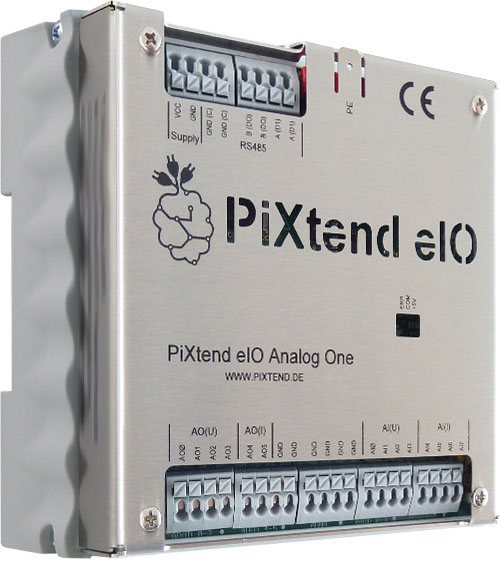 PiXtend® eIO Analog One Pro
Fast, reliable and connection friendly
Analoge voltage inputs (AI-U) 4x 0…5V / 0…10V, 10 Bit
Analoge voltage outputs (AO-U) 4x 0…10V, 12 Bit
Analoge current inputs (AO-I) 2x 0…20mA, 12 Bit
Technical Data
| | |
| --- | --- |
| Hardware | PiXtend® eIO Analog One |
| Power supply | 24V DC ±20% |
| Communication | EIA/RS485, halbduplex (2-wire) |
| Digital inputs (DI) inclusive counting function | - |
| Digital outputs (DO) | - |
| Analog voltage inputs (AI-U) | 4x 0…5V / 0…10V, 10 Bit |
| Analog current inputs (AI-I) | 4x 0…20mA, 10 Bit |
| Analog voltage outputs (AO-U) | 4x 0…10V, 12 Bit |
| Analog current outputs (AO-I) | 2x 0…20mA, 12 Bit |
| Wire-break detection | bei 0…20mA outputs |
| Temperature range | 0°C…+60°C |
| Dimension – without housing (Basic) | 96,3 x 101,8 x 21 mm |
| Dimension – with housing (Pro) | 106 x 105 x 45 mm |
| Form factor | Aluminium housing for mounting on mounting rail |
| Conformity | CE, RoHS, Modbus, IEC 61131-2 (SPS-Norm) |
| PiXtend compatibility | direct: V2 -L-, V2-S- with USB-RS485 Dongle |
| Baud rate | from 2400 to 230400, parity: none, even or uneven |
| Software | |
| Supported protocols | Modbus RTU, PiXtend eIO ASCII Protokoll |
| Fast digital logic "HyperLogic" | - |
| Security | Watchdog-Timer, CRC-checksum, Parity-Check |
| Support for | CODESYS V3, Java, C, C++, C#, Phyton, FHEM, Node-RED |