System on Module (SoM)
Discover the possibilities
SoMs combine microprocessor (CPU), flash, RAM and power supply on a compact circuit board. The multitude of communication interfaces are connected via contact pads on the edge and underside of the module. The SoM modules are soldered onto the corresponding carrier boards so that no additional connectors are required. Thus, they represent a powerful core module for creating individual applications.
Short development cycle

Take advantage of the head start and get your product on the market faster.

Limited construction risks

Development times and costs are reduced thanks to tried-and-tested solutions.

Easy to use

The fully developed CPU core is as effortless to use as a micro-controller.

EMC already tested

Decoupling capacitors have been placed and impedance-controlled lines designed.
Complex PIN multiplexing and DDR3/DDR4 RAM Design

This costly and demanding work has already been implemented.

Long-term availability of CPU module

Meets the high requirements for computing power and free configuration of a variety of interfaces.

Lifecycle Management

Professional support to maintain a long product life cycle.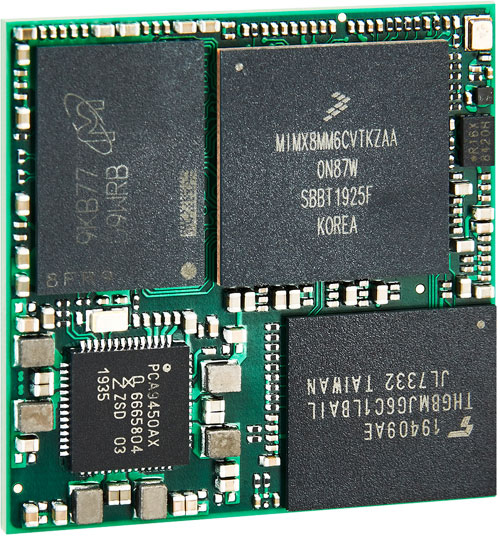 SL i.MX8M Mini
Quad Core with 1.6 GHz on jus 30 mm x 30 mm
4 x Arm® Cortex-A53 @ 1.6 GHz
1 x Arm® Cortex-M4 @ 400 MHz
1 GB up to 4 GB LPDDR4-RAM
Form factor 30 mm x 30 mm
Software
Embedded Linux (Yocto Distribution)
Technical Data
Function
Standard
Options
Microprocessor
CPU
4x Arm® Cortex®-A53 @1.6 GHz, 1x Arm® Cortex®-M4 @400 MHz, 2D GPU and 3D GPU
Memory
LPDDR4-RAM
1 GByte
up to 4 GByte
NOR-FLASH
2 MByte
eMMC
8 GByte
up to 128 GByte
Communication
Ethernet
1x 1 Gbit/s
USB
2x USB 2.0 OTG
I/O
4x UART, 4x I²C, 2x SPI, 27x GPIO, 3x PWM, 1x PCIe, 1x SAI, 1x QSPI, 2x SDIO, 1x 4 bit, 1x 8 bit
Display/Touch
LCD Interface
1x MIPI DSI (4-lane), up to 1920 x 1080 @60fps
Camera Interface
>1 MIPI CSI2 (4-lane)
Other
Power supply
5V DC ±5%
Power consumption
Linux running < 1W, max. < 3,5W
Temperature range
-25°C … +85°
Operating system
Embedded Linux (Yocto Distribution), MS Windows 10 IoT Core
Form factor
30 x 30 mm
Footprint
267 Pin / RM 1.5mm
Security
HAB Secure Boot, TrustZone, TRNG, RSA up to 4096, AES-128/192/256, 3DES, ARC4, MD-5, SHA up to 256, ECC, Secure JTAG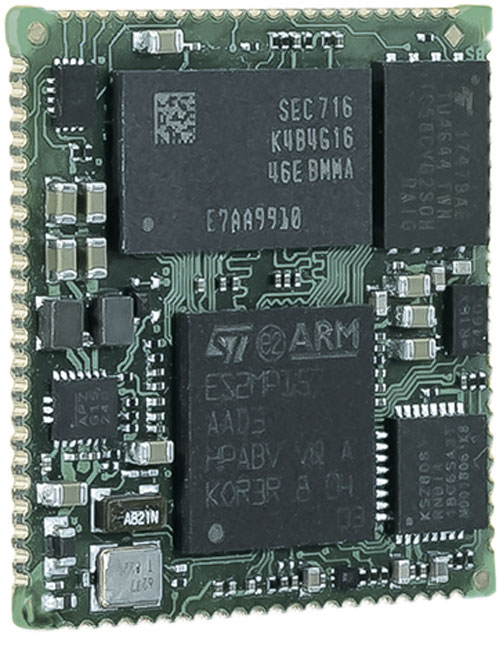 SL STM32MP157
Graphics, communication and realtime control in one single chip
2x Arm® Cortex-A7 @650 MHz
1x Arm® Cortex-M4 @200 MHz
256 MB up to 512 MB DDR3-RAM
1x CAN 2.0
Software
Embedded Linux (Yocto Distribution)
Technical Data
Function
Standard
Options
Microprocessor
CPU
STM32MP157A 2x Arm® Cortex®-A7 @650 MHz, 1x Arm® Cortex®-M4 @200 MHz, 3D GPU
Memory
DDR3-RAM
512 MB
256 MB
NAND-Flash
512 MB
256 MB
NOR-Flash
2 MB
Communication
CAN
1x CAN 2.0
I/O
3x UART 2x I2C, 19x GPIO, 2x PWM, 2x ADC
SDIO
2x SDIO, 4.0 bit
Display/Touch
LCD Interface
1x MIPI DSI, 1x RGB 24 bit up to 1366 x 768 @60fps
Other
Power supply
3,3V ± 5%
Power consumption
max. < 1,25W
Temperature range
-40 ... +85°C
Operating system
Embedded Linux (Yocto Distribution)
Form factor
25,5 x 25,5 mm
Footprint
88 Pin CASTELLATIONS, 38 LGA Pads
Internal RTC
on SoM with Quartz
Security
TrustZone, AES 256, SHA-256, MD5, HMAC, 3x Tamper Pins with 1 active, Secure RAMs, Secure Peripherals, Secure RTC, Analog true RNG, 98-bit unique ID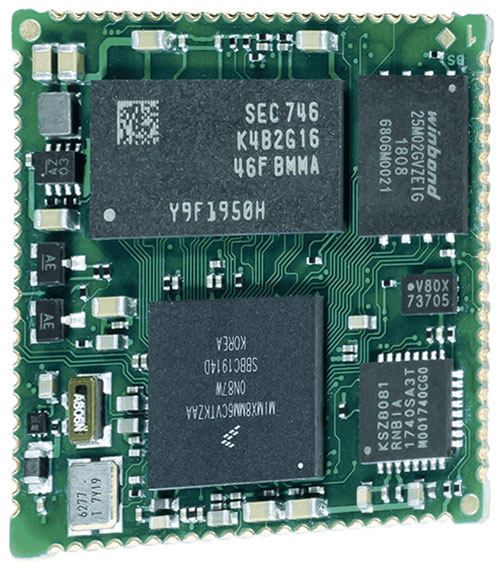 SL i.MX6ULL/UL
Computing power, communication and graphics on 25 mm x 25 mm
i.MX6ULL 1x Arm® Cortex-A7 @800 MHz
i.MX6UltraLite 1x Arm® Cortex-A7 @528 MHz
256 MB up to 512 MB DDR3-RAM
Form factor 25 mm x 25 mm
Software
Embedded Linux (Yocto Distribution)
Optional CODESYS SoftSPS
Technical Data
Function
Standard Layout ULL
Standard Layout UL
Options
Microprocessor
CPU
i.MX6ULL 1x Arm® Cortex®-A7 @800 MHz
i.MX6UltraLite 1x Arm® Cortex®-A7 @528 MHz
Memory
DDR3-RAM
512 MB
256 MB
NAND-Flash
512 MB
256 MB
NOR-Flash
1 MB
Communication
Ethernet
2x 10/100 Mbit/s, 1xPHY included
USB
2x 2.0 OTG
CAN
1x CAN 2.0
I/O
3x UART, 2x I2C,1x SPI, 16x GPIO, 2x PWM
SDIO
2x SDIO, 4 bit
Analog
3x ADC
Display/Touch
LCD Interface
1x RGB 24 bit up to 1366 x 768 @60fps
Other
Power supply
3,3V ±5%
Power consumption
max. < 1W
Temperature range
-40 ... +85°C
Operating system
Embedded Linux (Yocto Distribution)
Form factor
25,5 x 25,5 mm
Footprint
88 Pin CASTELLATIONS, 38 LGA Pads
Internal RTC
on SoM with Quartz
Security
Secure Boot, TRNG, AES-128
Secure Boot, TRNG, Tamper Detection, Secure Storage (including 32 KB Secure RAM), Cryptographic Accelerators (AES-128, DES 3DES, ARC4,MD5, SHA-1, SHA-224, SHA-256, RSA/ECDSA), Secure Debug, OTP Space