KONTRON I.MX8M MINI PLATFORM IS AVAILABLE WITH CODESYS® SOFTPLC FROM TODAY
Control tasks in industrial automation made easy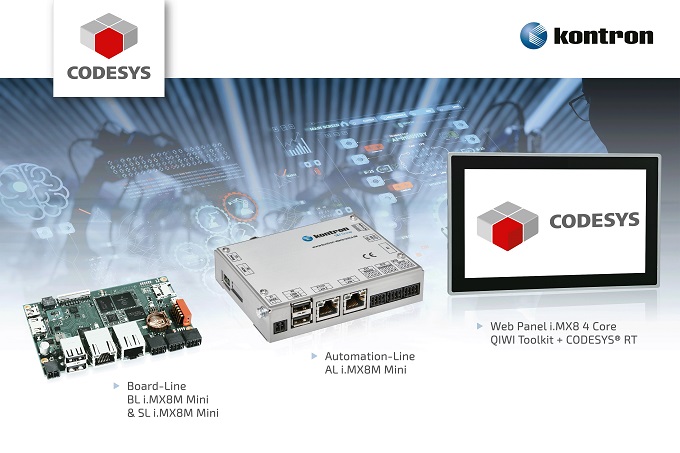 10|2022 Ismaning, 19. October 2022 – Kontron, Germany, 19 October, 2022 – Kontron, a global leader in IoT and embedded computing technology (ECT), has now expanded its i.MX8M Mini platform to include the leading manufacturer-independent IEC-61131-3 automation software CODESYS® for project management in industrial control systems. Complex control tasks can be implemented easily and quickly with this modern and hardware-independent development interface.
The product range based on the powerful i.MX8M Mini platform is now available with CODESYS® SoftPLC and offers users practical, integrated solutions for convenient project planning of automation applications. System-on-Modules, single-board computers, robust computers on DIN rails, touch displays, Web Panels as well as customer-specific boards can be easily granted new functions with a single- or multi-core CODESYS® license.
The i.MX8M Mini Quad Core application processor based on ARM® Cortex architecture is the perfect solution for demanding automation tasks, real-time applications and high-quality visualization solutions. In addition to a powerful 4x Arm® Cortex® A53 microprocessor with a clock speed of 1.6 GHz and DDR4 memory technology, the system offers a standard peripheral set with a wide range of interfaces. With it numerous digital I/Os and serial communication interfaces as well as PWM and SDIO interfaces, the module is perfect for industrial applications.
The CODESYS® programming tool for industrial automation application development offers further advantages: The low-cost CODESYS® license offers the use of a full range of PLC functionalities on the Linux platform, including validated field bus protocols. The development costs and the project risk are significantly reduced and the time to market is shortened. A short boot interval ensures rapid availability, and real-time behavior has been optimized once again to further boost the performance of the application. Users thus benefit from shorter cycle times and faster, more reliable reaction of the controls. The i.MX8M Mini based proprietary and customized products is now available with CODESYS® SoftPLC.

Media Contact
Global
Eleonore Arlart
Kontron Europe GmbH
Tel: +49 (0) 821 4086-274
eleonore.arlart@kontron.com