NEW RASPBERRY PI COMPUTE MODUL 4 CONVINCES ON ALL LEVELS
The new Pi-Tron CM4 offers greater performance and extensive interface extensions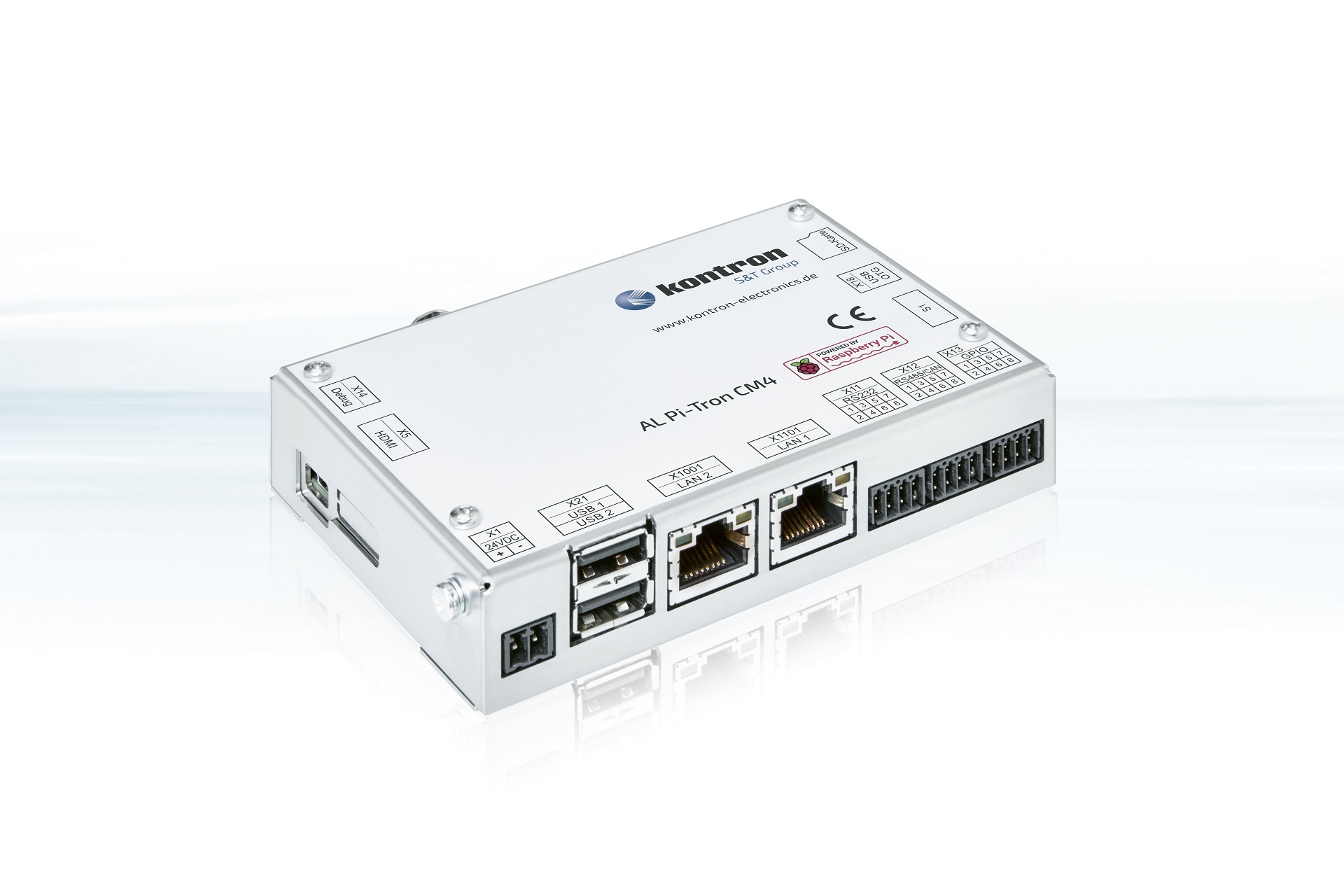 Ismaning, Germany, March 17, 2022 – Kontron, a leading global provider of IoT/Embedded Computer Technology (ECT), launches the Pi-Tron CM4, a new single-board computer based on the Raspberry Pi with a Broadcom BCM2711, 4x Arm® Cortex®-A72 with 1.5 GHz processor, an M.2 slot and many other interfaces. The Automation Line AL Pi-Tron CM4 is available in a housing, allowing for universal application and making it especially well-suited for industrial applications.

The Pi-Tron CM4 is based on the new fourth-generation Compute Module and features the Broadcom BCM2711 4x Arm® Cortex®-A72, 64-bit SoC @1.5 GHz, a significantly faster processor than the previous generation. It has more memory with 1 GB, 2 GB, 4 GB or 8 GB LPDDR4-3200 SDRAM, depending on the variant. There are also options for an eMMC memory with 8 GB, 16 GB or 32 GB available. Additionally, the board offers an optional pre-certified wireless LAN/Bluetooth connection. An M.2 B key slot with PCIe connection enables the use of standard modules with the corresponding interface. For example, individual AI solutions for machine vision and machine/deep learning can be implemented with the very powerful Hailo-8™ AI modules or the Google Coral AI Edge TPU. For the integration into IoT solutions, the Pi-Tron has been prepared to use LTE modules with SIM cards and an external antenna connection.

The range of functions of the interfaces has been significantly expanded. Data exchange with other system components is ensured via the Modbus-compliant RS485 interface. The CAN bus interface is now FD (Flexible Data Rate) enabled, offering more efficiency and a higher data transfer rate. The Raspberry Pi standard 40-PIN GPIO header provides flexibility for industrial interfaces. The Pi-Tron CM4 offers an HDMI slot to use standard display devices as well as an LVDS display connector via an adapter board.

A big advantage of the Raspberry Pi single-board computer is its large community. In addition to many software examples, it provides a large pool of compiled program packages for easy installation. The Pi-Tron CM4 only uses components that are supported by the community software. The large number of expansion modules based on the GPIO header is a valuable part of the Raspberry Pi ecosystem.
Medienkontakte
Global
Eleonore Arlart
Kontron Europe GmbH
Tel: +49 (0) 821 4086 274
eleonore.arlart@kontron.com

EMEA
Jan Lauer
Profil Marketing OHG
Tel: +49 (531) 387 33-18
kontron@profil-marketing.com