Kontron's OSM-S i.MX8M Plus: The first compact 30 mm x 30 mm System-on-Module with dual GbE LAN and TSN functions
The new System-on-Module combines quad Arm® processor i.MX8M Plus with the Open Standard Module™ specification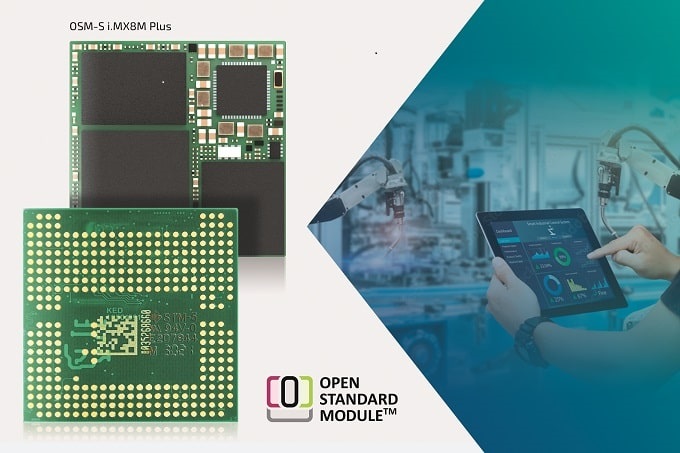 03|2023 Ismaning, March 6, 2023 –Kontron, a global leader in IoT/Embedded Computer Technology (ECT), expands its existing 30 mm x 30 mm OSM range to include the OSM-S i.MX8M Plus system-on-module with 1.6 GHz quad core as well as an AI processor, 64 GB eMMC and 4 GB LPDDR4 RAM. This is the first small OSM form factor SoM that features the i.MX8M Plus processor with two GbE interfaces and two CAN interfaces. The module can be directly soldered without plug connections, allowing it to be assembled, tested and programmed by machine automation at a low cost.
The SoM is powerful, compact, cost-effective and the first small form factor module to offer this wide variety of functions. It combines all the advantages of the i.MX8M Plus processor and the OSM standard in the most compact space possible. It offers high performance for sophisticated computing-intensive applications, 3D visualization and a wide range of communication applications. Numerous digital I/Os and serial communication interfaces as well as PWM and SDIO interfaces make the module perfect for industrial applications. The latest processor (4x Arm® Cortex®-A53, 1x Arm® Cortex®-M7) and memory technology (LPDDR4) make it easy and quick to be used for custom board and application developments. The RISC (Reduced Instruction Set Computer) processors of the Arm® based CPU are the perfect basis for cost-sensitive embedded applications with high energy efficiency combined with high computing and graphics performance.
The OSM-S i.MX8M Plus module is a complete computer that is equipped with a processor and graphics unit, RAM and program memory as well as all signals according to the OSM standard. The powerful NXP i.MX8M Plus SOC features an integrated neural processing unit (NPU) with a 2.3 TOPS AI processor. Universal programmability, fast pattern recognition and low power consumption are just some of the advantages of the processor. The i.MX8 application processor is part of NXP's EdgeVerse™ platform. This provides scalable and secure edge computing solutions for high-performance edge applications in the fields of IoT and Industry 4.0.
The integrated Cortex® M7 processor core enables real-time control via the dual CAN interface as well as the dual GbE connection. The LAN port supports the Time Sensitive Networking (TSN) standard for real-time data transmission. A major advantage of TSN communication technology is its extensive independence from the physical transmission layer. Both wired and wireless connections, such as the latest 5G cellular standard, are possible. The first customer prototypes of the OSM-S i.MX8M Plus system-on-module will be available at the end of Q2 2023.

Media contact
Global
Eleonore Arlart
Kontron Europe GmbH
Tel: +49 (0) 821 4086-274
eleonore.arlart@kontron.com