PIXTEND® NOW AVAILABLE WITH RASPBERRY PI 4
Kontron's new PiXtend® Pi 4 stands out for high performance in an industrial environment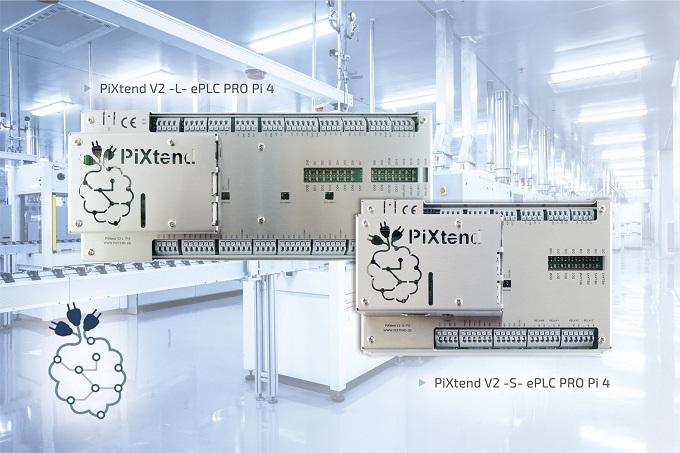 11|2022 Ismaning, 02. November 2022 – Kontron, a global leader in IoT/Embedded Computing Technology (ECT), will introduce the PiXtend® Pi 4 programmable logic controller based on the Raspberry Pi 4 at the SPS 2022. The new high-performance single-board computer features a Broadcom BCM2711, Quad Core Arm® Cortex® A72 at 1.5 GHz processor that is faster than the previous generation.
The main field of application of the electronic control based on the Raspberry Pi is in device and machinery construction. The PiXtend® Pi 4 comes the Broadcom BCM2711, the most powerful processor of the Raspberry Pi Foundation. The Quad Core processor with Arm® Cortex® A72, 64-bit SoC supports up to 8 GB RAM.
PiXtend® Pi 4 impresses with its high-performance Gigabit Ethernet interface and ensures a higher, interference-free data transfer rate. In addition, the single-board computer offers two micro-HDMI ports, which are available for transferring audio and video data; up to 4Kp30 is supported. In addition to two USB 2.0 ports, two USB 3.0 ports are available, which transfer data up to ten times faster. In order to fully utilize the processor's maximum operating speed of 1.5 GHz, a passive heat sink is installed in the aluminum case.
The PiXtend® controller can be programmed in common programming languages such as C or Python and is suitable for use with the CODESYS® SoftPLC. The modules can be expanded with the PiXtend® eIO, an I/O system for digital and analog sensors and actuators that can be connected via Modbus. Simple wiring directly in the device or in the control cabinet is made easier by industry-grade connection technology. All controllers and modules are available in a Basic or Pro variant as a complete device with DIN rail housing. PiXtend® Pi 4 test devices, based on the Raspberry Pi 4 will be available at the SPS 2022.

Media Contacts
Global
Eleonore Arlart
Kontron Europe GmbH
Tel: +49 (0) 821 4086-274
eleonore.arlart@kontron.com