THE PIXTEND® BRAND BECOMES PART OF KONTRON ELECTRONICS GMBH
Kontron Electronics strengthens its competence in Raspberry Pi by acquiring the PiXtend® brand.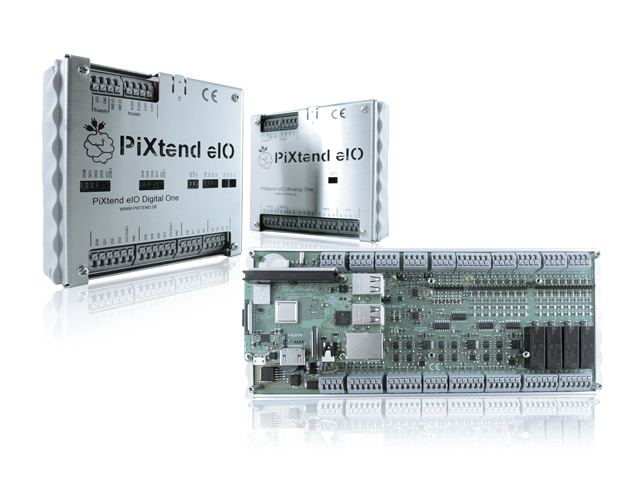 Augsburg, August 27, 2020 - Kontron Electronics, a leading provider of electronic products as well as development and manufacturing services based in Großbettlingen, Germany, acquired the PiXtend® brand from Qube Solutions GmbH on August 1, which is separating itself from this product segment. Kontron Electronics is part of Kontron S&T AG, a leading global provider of IoT/Embedded Computing technology.
The products of the PiXtend® brand have already been successfully placed in the retail industry and on the market for many years and enjoy a very good reputation as an educational platform in schools and universities. In the industrial environment, the electronic controllers based on Raspberry Pi, as well as the expansion modules for digital and analog inputs and outputs, are mainly used in equipment and machine construction.
"With the acquisition of the PiXtend® brand we are strengthening our competence and setting the course for further products in the Raspberry Pi area. This computer enjoys great popularity and is one of the best known Linux computers in the world. Not only is the maker scene impossible to imagine without it, but especially in the industry, it is renowned for the highest growth rates," explains Holger Wußmann, Managing Director of Kontron Electronics. "The PiXtend® products and solutions perfectly complement our portfolio. In particular, our Pi-Tron CM3+ product, which is primarily suitable for communication tasks, is optimally complemented by the new products with a focus on control technology and automation," continues Jochen Gimple, Managing Director of Kontron Electronics. The great advantage for customers is that they can use all the software of the Raspberry Pi Community on industrial hardware.
The PiXtend® portfolio includes the PiXtend® V2-L- and PiXtend® V2-S- control boards, with different numbers of digital and analog channels and interfaces, based on a powerful Raspberry Pi 3B+ single-board computer. They can be programmed in the common programming languages such as C or Python, and are suitable for the use of the soft PLC CODESYS®.
The boards are complemented by PiXtend® eIO, an I/O expansion system for digital and analog sensors and actuators that can be connected via Modbus.
Industrial connection technology on all modules facilitates wiring directly in the device or in the control cabinet. All control assemblies and modules are available in a Basic or Pro version as a complete device with top-hat rail housing. The products can still be purchased via the online store shop.pixtend.de.
Media Contacts
Global
Eleonore Arlart
Kontron Europe GmbH
Tel: +49 (0) 821 4086 274
eleonore.arlart@remove-this.kontron.com